The winter has arrived! I would actually hope it would go away for a while still, but it has its benefits - beautiful snow, good reason to cuddle inside - and tasty kale! We've been having kale a lot now after it got the frost it needed. Now the kale looks great and I can now also tell you, it tastes great.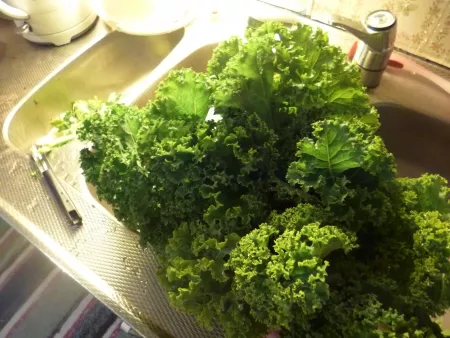 There's this one recipe I love to make kale with. I was pretty sure it's from the Bayrisches Kochbuch, the holy book of Bavarian cooking, but upon checking aka trying to refresh my memory I realized I make the kale very differently!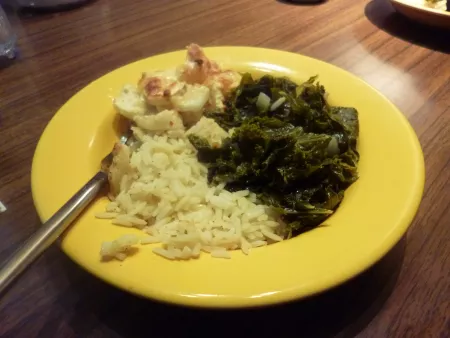 I simply take a deep, big frying pan (I love my Woll deep pan) and a kettle, big slab of butter (a tablespoon or even two), a big onion finely chopped, and of course kale (stem removed, coarsely chopped). I boil the kale quickly while the onion sautées in the butter on the pan, and then add the kale to the pan with some vegetable broth and a bit of white vinegar. Then I let it simmer for about 30 minutes minimum - more doesn't hurt. Once the kale is tender, voilá - serve the dish!
In Germany I always served this kale with "Semmelknödel", a kind of a traditional bread dumpling. Unfortunately those were readily available as a cook-only dish in the German supermarket. Here? Do it from the start. Now that is something I haven't ventured into doing yet, so we had the kale with boiled rice and radish casserole. The kale was delicious, but I did miss the Knödel. Guess I'll need to learn how to make those now won't I!